Filling machine for lock cylinder core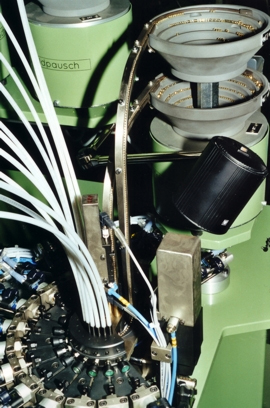 AUMAT presents a flexible system answering the complex task of cylinder core filling.
The filling process is done fully automatically. Only the insertion and removal of the cylinder core is done manually.
The filling machine for lockcylinder core is controlled completely electronically. Via closure lists in the form of data or via an opto-electronic scanning of the keys the closures are initiated. Based on this information, the system can variably handle up to 10 pin lengths.
It is also possible to assign the necessary additional tumbler pads for locking system. This process is also controlled by data. The cycle time of the system in the processing of five-pin cores lies at about 5 seconds.