Pull type broaching machine RISZ 10x800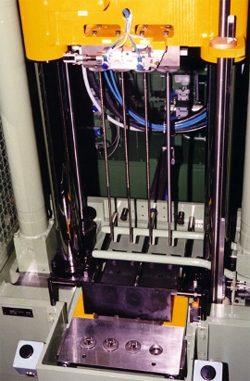 The RISZ broaching machine is used for the broaching of customary internal profiles (e.g., involutes, serration, grooving, round bore), even if pressure broaching can no longer be applied due to too long broaching machines with low broach cross section.

The range of application is meant mainly for mass production in continuous-running operations that are largely maintenance-free.

With component parts that are suited for external broaching the machine can also be set up for combined internal and external broaching.

The essential feature of the basic machine is its independence of the number and distance of space positions. That means that characteristics are always adapted to each individual operation. A later application that deviates from the originally selected one, is - by exchange of optional equipment – possible at any time. Thus a universal applicability of the machine is guaranteed by the given base construction.

The broaching machines are led with precision during the whole broaching process at the shaft and the tail-piece, - from the entrance of the first cog to the exit of the last. This makes the machine particularly suitable for accuracy-broaching.